Rollr Mobile Pot Stands
Moving big pot plants isn't a problem any more.
Anyone with big plants in big pots knows that moving them around is a hassle and leaving them sitting in one place ruins your timber deck, so what to do? Rollr Mobile Pot Stands are the answer. These fully mobile Class 1 hardwood pot stands have high-load powder-coated steel caster frames, sealed double steel wheel bearings, UV-resistant polyurethane wheels, two brakes, and a
75kg or 100kg load capacity
. Designed for use on timber, tiled or concrete outdoor areas, Rollr's are built for outdoor durability (right down to the 304 stainless steel screws holding the casters on), and the polyurethane wheels won't flat-spot or mark the surface of your deck. Available in two standard sizes -
295mm
and
365mm
- they can be confidently used with square pots with bases up to 270mm or 340mm across, and round pots with a base diameter of up 350mm and 400m respectively (which covers pretty much all round pots up 75cm). I also make
custom sizes to order
up to 800mm long and up to 450mm wide. Fitted with either 4 or 6 50mm diameter casters (depending on the length) customs are ideal for rectangular planter boxes, herb gardens, or for holding several smaller pots. Please
email me
for a quote. Hand-made in Cairns and yours from just
$49.95
each plus P&H.
Buy now
or
email me
for more info.
Once upon a time...
So here's the thing. The wife and I live in Cairns and we've got a timber deck with some big palms in big pots (and who doesn't in the tropics!). These pots are 65kgs all up - 50cm glazed ceramic pots full of dirt with 1.5-2 metre Golden Canes sticking out of the top - so moving them around so the palms could get some extra sun (or rain), or even just to mix things up a bit, was a hassle because of the weight involved. Even worse, with them just sitting on the deck they were leaving dirt rings that were staining the deck and rapidly became home for heaps of black ants. So, the problem solving began. First solution was whenever people came over to visit we would get them to help us move the pots around. That worked out to be a short-term fix - people stopped visiting (DOH!). I then suggested to the wife that we get smaller plants in smaller pots. Wife's response - "Wait? What? No!! Next!"
OK, so off to the "usual suspect" hardware stores and local garden places to see what answers they could provide. How hard could it be? We spent about $100 getting a variety of different contraptions which ended either being made of some sort of wierd plasticine/steel composite that buckled under the weight ("rated to 100kgs" the label on one said), had cheap plastic wheels better suited for an office chair, had a low "fine-print" load rating that was about half the weight of the pot plant in the picture on the label, or just weren't up to it for outdoor use - and usually a combination of two or more of these things. My personal favourite was the one made out of untreated baltic pine that the termites would have loved if they could get to it quickly enough before it dissolved in the weather, fitted with flimsy little plastic wheels held on with 10mm screws through a plastic baseplate. Hmmm, indoor use with a small pot with its own watering tray? Maybe. Outdoors with a 75kg palm on it? Nah, that wasn't going to end well. Having exhausted local options it was off to talk to Mr Google and see what he could find for us. Lo and behold, exactly the same ones (plus postage) - the round green one designed for a 12 inch plastic pot of petunias, the extendable metal one that sagged in the middle under load and was held together with wing nuts that snapped off, the fine-print "rated to 25kgs" ones, and that bloody untreated pine one again. And all with those pathetic little plastic wheels. We even went online overseas to see what we could find. Hey, the Americans build things all the time that can lift and support heavy stuff, and move it around easily - I've seen the doco's on National Geographic. Nope! Only one thing left to do - grab a beer, go to the shed, and see if I could do better.
Rollr is born...
I had a few preliminary specs in mind - Class 1 hardwood tops, metal casters with high-load steel frames and sealed bearings, durability for extended outdoor use and a "real" load capacity of 75kgs - so I knocked up a few prototypes and after field-testing over a few months and constantly pestering friends for feedback, I fine-tuned it into something that ticked all the boxes. While greeting every visitor immediately with "hey, check this out, what do you think of version 43?", rather than "Hi, how you going? Want a beer?" got a bit old with our regulars, it also resulted in more and more comments like "Hey, you should sell these!", so here it is - the
Rollr Mobile Pot Stand
, hand-made in Cairns by me in my son-in-law's shed (he's got all the flash tools) and pretty much what I would have originally bought if someone had been able to sell me one. Available in your choice of Spotted Gum, Kwila or Red Ironbark, 75kg or 100kg load capacity, and fitted with industrial quality steel frame solid bearing casters, Rollr makes owning big-ass pots completely hassle free.
A few things you need to know
Your Rollr comes fully assembled.
Orders of 3 units or less are generally shipped next business day, however larger orders may take 2-3 days to be shipped.
They have been lightly oiled and are ready for you to paint, stain or oil.
The timber color and pattern may vary from those shown in the pictures on this page.
There's a 12 month warranty covering faulty materials and structural failure when the Rollr is used as intended.
Kwila/Merbau contains natural tannins that will bleed and leave a reddish-brown stain on tiles, sandstone, concrete and decks when wet. To avoid staining hose down your Rollr on a grassed area first so that the tannins bleed out.
Get yours now
All prices shown are GST inclusive and in Australian Dollars.
295mm Spotted Gum
$49.95
295mm Kwila/Merbau
$49.95
OUT OF STOCK
295mm Red Ironbark
$49.95
OUT OF STOCK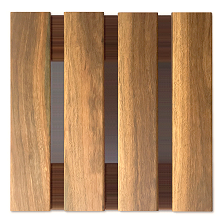 365mm Spotted Gum
$59.95
OUT OF STOCK
365mm Kwila/Merbau
$59.95
OUT OF STOCK
365mm Red Ironbark
$59.95
OUT OF STOCK
Sorry, I'm currently out of wheels - new stock should be here mid-December.

Returns Policy Our Rollr's have a 12 month warranty (from purchase date) covering faulty materials and structural failure when the unit is used as intended. Damage due to excessive wear and tear, overloading, impact, mis-use, alteration, or contact with chemicals is not covered by this warranty. In the event of a verified fault or failure, replacement wheels, complete caster units, timber tops, or any combination thereof will be sent to you for self-repair. Proof of claim will require a photo of the fault or failure emailed to us, together with proof of purchase details. Warranty refunds are also available on a "return-to-base" basis. Once the faulty unit has been returned to us, a warranty assessment will be carried out and, if successful, your refund will be processed within 7 working days. We do not offer non-warranty replacements, returns or refunds, so please choose your Rollr carefully.
Data Security We do not record or store your credit card details. On payment you enter your credit card details directly into the secure ANZ eGate payment page hosted on the ANZ Bank website, or the Paypal payment page hosted on the Paypal website. All transactions are processed through 128 bit SSL encryption. Privacy We guarantee that any personal information given to us will remain private and confidential and is never made available to any third party for any reason whatsoever. We have adopted the policies for the handling of personal information that are in compliance with the Privacy Act and the National Privacy Principles stipulated by The Office of the Australian Information Commissioner. More information is available at www.oaic.gov.au.